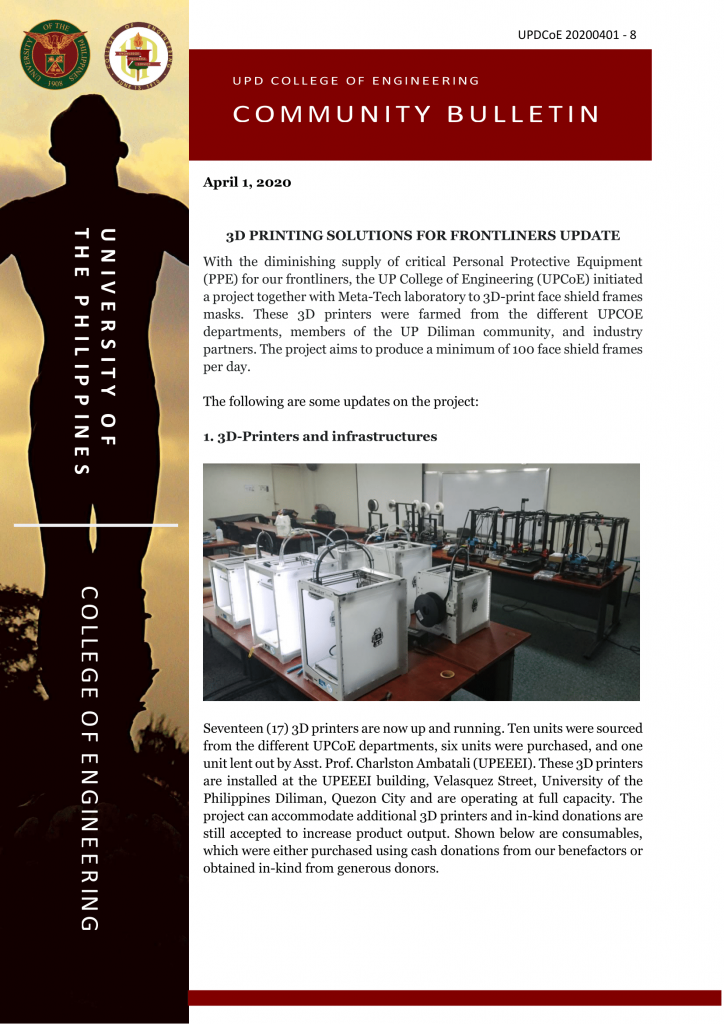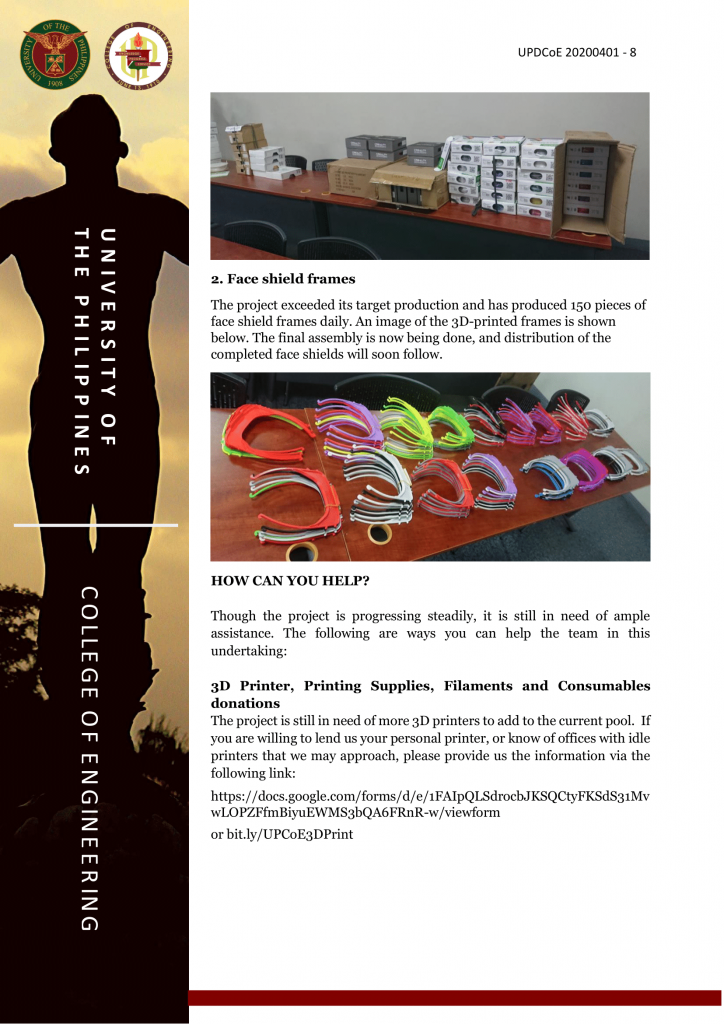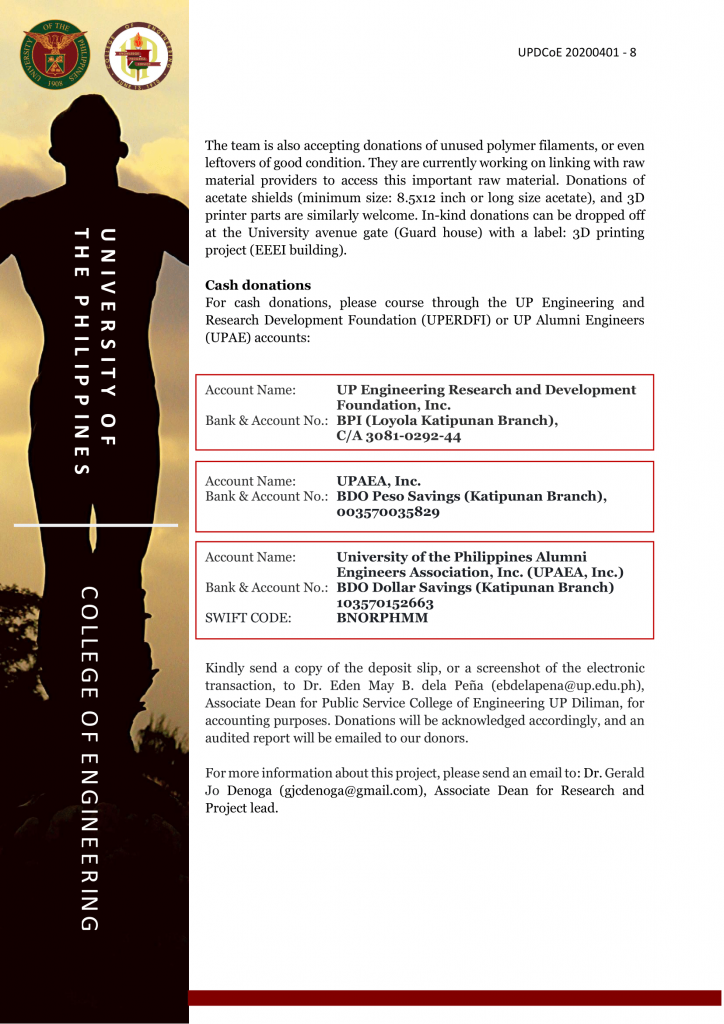 April 1, 2020
3D PRINTING SOLUTIONS FOR FRONTLINERS UPDATE
With the diminishing supply of critical Personal Protective Equipment (PPE) for our frontliners, the UP College of Engineering (UPCoE) initiated a project together with Meta-Tech laboratory to 3D-print face shield frames masks. These 3D printers were farmed from the different UPCOE departments, members of the UP Diliman community, and industry partners. The project aims to produce a minimum of 100 face shield frames per day.
The following are some updates on the project:
1. 3D-Printers and infrastructures
Seventeen (17) 3D printers are now up and running. Ten units were sourced from the different UPCoE departments, six units were purchased, and one unit lent out by Asst. Prof. Charleston Ambatali (UPEEEI). These 3D printers are installed at the UPEEEI building, Velasquez Street, University of the Philippines Diliman, Quezon City and are operating at full capacity. The project can accommodate additional 3D printers and in-kind donations are still accepted to increase product output. Shown below are consumables, which were either purchased using cash donations from our benefactors or obtained in-kind from generous donors.
2. Face shield frames
The project exceeded its target production and has produced 150 pieces of face shield frames daily. An image of the 3D-printed frames is shown below. The final assembly is now being done, and distribution of the completed face shields will soon follow.
HOW CAN YOU HELP?
Though the project is progressing steadily, it is still in need of ample assistance. The following are ways you can help the team in this undertaking:
3D Printer, Printing Supplies, Filaments and Consumables donations
The project is still in need of more 3D printers to add to the current pool. If you are willing to lend us your personal printer, or know of offices with idle printers that we may approach, please provide us the information via the following link:
https://docs.google.com/…/1FAIpQLSdrocbJKSQCtyFKSd…/viewform
or bit.ly/UPCoE3DPrint
The team is also accepting donations of unused polymer filaments, or even leftovers of good condition. They are currently working on linking with raw material providers to access this important raw material. Donations of acetate shields (minimum size: 8.5×12 inch or long size acetate), and 3D printer parts are similarly welcome. In-kind donations can be dropped off at the University avenue gate (Guard house) with a label: 3D printing project (EEEI building).
Cash donations
For cash donations, please course through the UP Engineering and Research Development Foundation (UPERDFI) or UP Alumni Engineers (UPAE) accounts:
Account Name: UP Engineering Research and Development Foundation, Inc.
Bank & Account No.: BPI (Loyola Katipunan Branch),
C/A 3081-0292-44
Account Name: UPAEA, Inc.
Bank & Account No.: BDO Peso Savings (Katipunan Branch),
003570035829
Account Name: University of the Philippines Alumni Engineers Association, Inc. (UPAEA, Inc.)
Bank & Account No.: BDO Dollar Savings (Katipunan Branch)
103570152663
SWIFT CODE: BNORPHMM
Kindly send a copy of the deposit slip, or a screenshot of the electronic transaction, to Dr. Eden May B. dela Peña (ebdelapena@up.edu.ph), Associate Dean for Public Service College of Engineering UP Diliman, for accounting purposes. Donations will be acknowledged accordingly, and an audited report will be emailed to our donors.
For more information about this project, please send an email to: Dr. Gerald Jo Denoga (gjcdenoga@gmail.com), Associate Dean for Research and Project lead.
UPDCoE 20200402 – 8