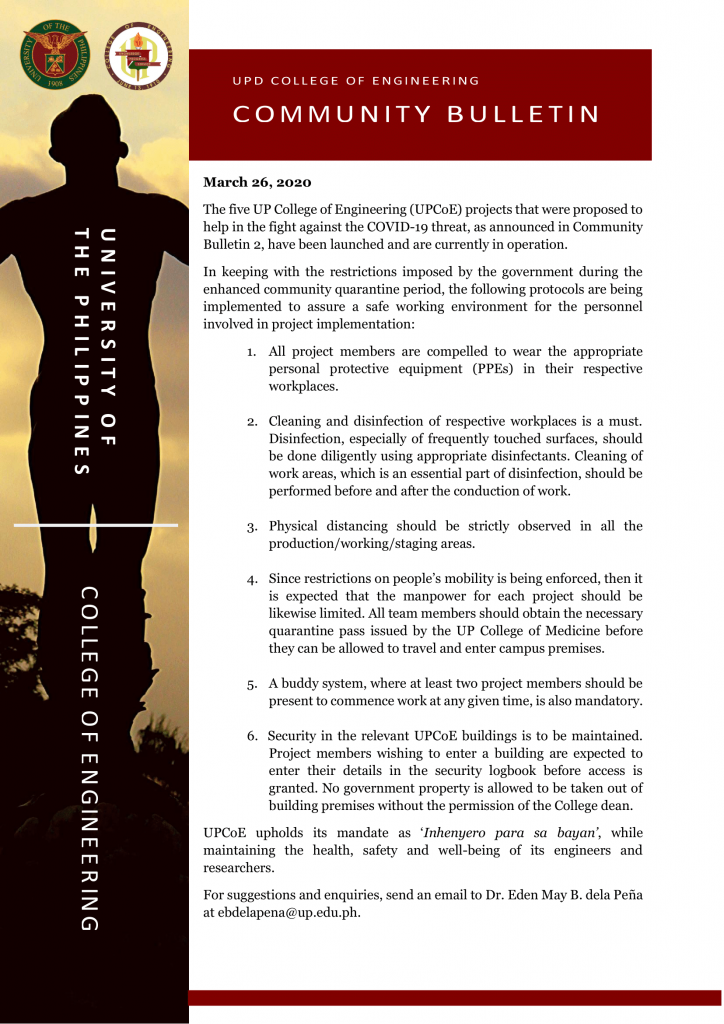 March 26, 2020
The five UP College of Engineering (UPCoE) projects that were proposed to help in the fight against the COVID-19 threat, as announced in Community Bulletin 2, have been launched and are currently in operation.
In keeping with the restrictions imposed by the government during the enhanced community quarantine period, the following protocols are being implemented to assure a safe working environment for the personnel involved in project implementation:
All project members are compelled to wear the appropriate personal protective equipment (PPEs) in their respective workplaces.
Cleaning and disinfection of respective workplaces is a must. Disinfection, especially of frequently touched surfaces, should be done diligently using appropriate disinfectants. Cleaning of work areas, which is an essential part of disinfection, should be performed before and after the conduction of work.
Physical distancing should be strictly observed in all the production/working/staging areas.
Since restrictions on people's mobility is being enforced, then it is expected that the manpower for each project should be likewise limited. All team members should obtain the necessary quarantine pass issued by the UP College of Medicine before they can be allowed to travel and enter campus premises.
A buddy system, where at least two project members should be present to commence work at any given time, is also mandatory.
Security in the relevant UPCoE buildings is to be maintained. Project members wishing to enter a building are expected to enter their details in the security logbook before access is granted. No government property is allowed to be taken out of building premises without the permission of the College dean.
UPCoE upholds its mandate as 'Inhenyero para sa bayan', while maintaining the health, safety and well-being of its engineers and researchers.
For suggestions and enquiries, send an email to Dr. Eden May B. dela Peña at ebdelapena@up.edu.ph.
For more details regarding UPCoE's initiatives, check the March 23 Community Bulletin: https://coe.upd.edu.ph/2020/03/24/community-bulletin-updcoe-20200324-2a/
https://bit.ly/2Uxkfr9