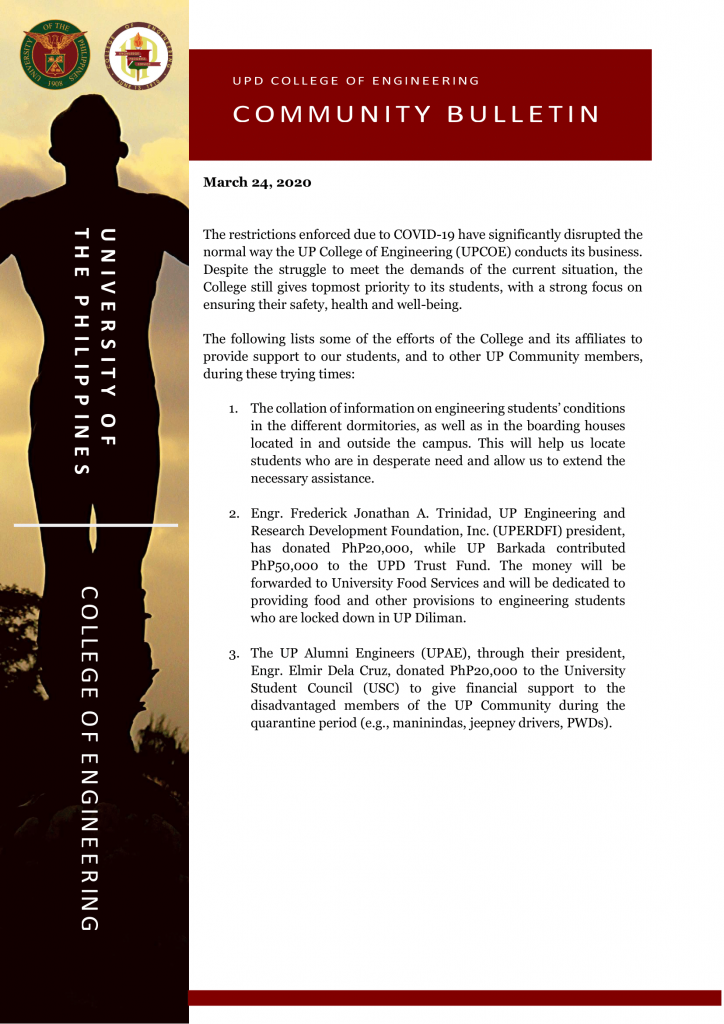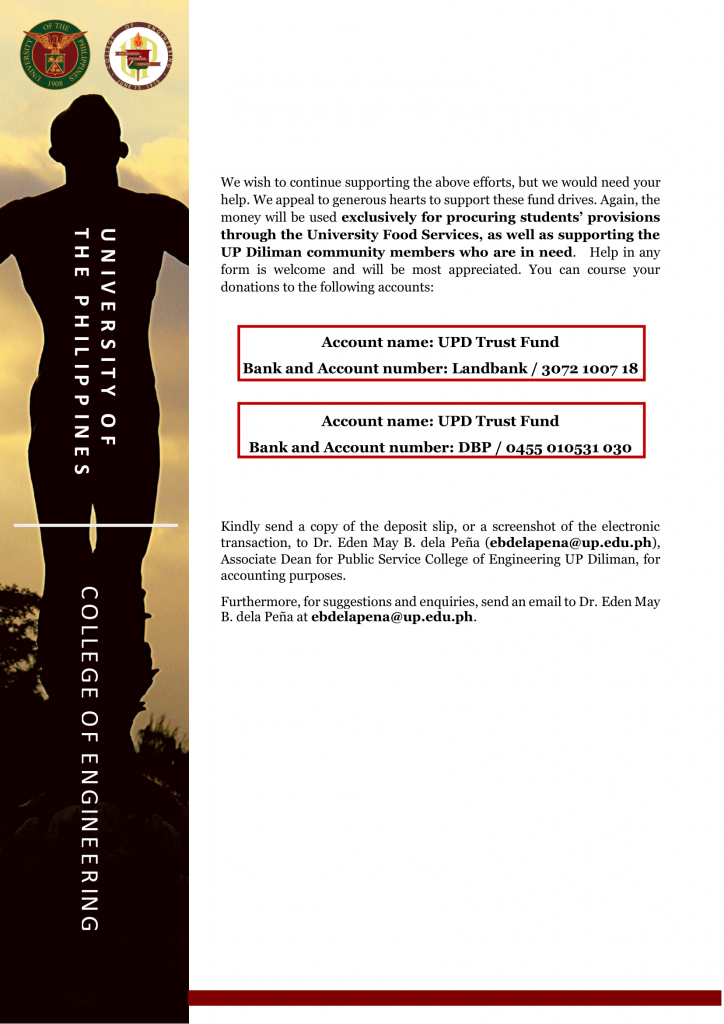 The restrictions enforced due to COVID-19 have significantly disrupted the normal way the UP College of Engineering (UPCOE) conducts its business. Despite the struggle to meet the demands of the current situation, the College still gives topmost priority to its students, with a strong focus on ensuring their safety, health and well-being.
The following lists some of the efforts of the College and its affiliates to provide support to our students, and to other UP Community members, during these trying times:
The collation of information on engineering students' conditions in the different dormitories, as well as in the boarding houses located in and outside the campus. This will help us locate students who are in desperate need and allow us to extend the necessary assistance.
Engr. Frederick Jonathan A. Trinidad, UP Engineering and Research Development Foundation, Inc. (UPERDFI) president, has donated PhP20,000, while UP Barkada contributed PhP50,000 to the UPD Trust Fund. The money will be forwarded to University Food Services and will be dedicated to providing food and other provisions to engineering students who are locked down in UP Diliman.
The UP Alumni Engineers (UPAE), through their president, Engr. Elmir Dela Cruz, donated PhP20,000 to the University Student Council (USC) to give financial support to the disadvantaged members of the UP Community during the quarantine period (e.g., maninindas, jeepney drivers, PWDs).
We wish to continue supporting the above efforts, but we would need your help. We appeal to generous hearts to support these fund drives. Again, the money will be used exclusively for procuring students' provisions through the University Food Services, as well as supporting the UP Diliman community members who are in need. Help in any form is welcome and will be most appreciated. You can course your donations to the following accounts:
Account name: UPD Trust Fund
Bank and Account number: Landbank / 3072 1007 18
Account name: UPD Trust Fund
Bank and Account number: DBP / 0455 010531 030
Kindly send a copy of the deposit slip, or a screenshot of the electronic transaction, to Dr. Eden May B. dela Peña (ebdelapena@up.edu.ph), Associate Dean for Public Service College of Engineering UP Diliman, for accounting purposes.
Furthermore, for suggestions and enquiries, send an email to Dr. Eden May B. dela Peña at ebdelapena@up.edu.ph.

UPDCoE 20200324 – 3