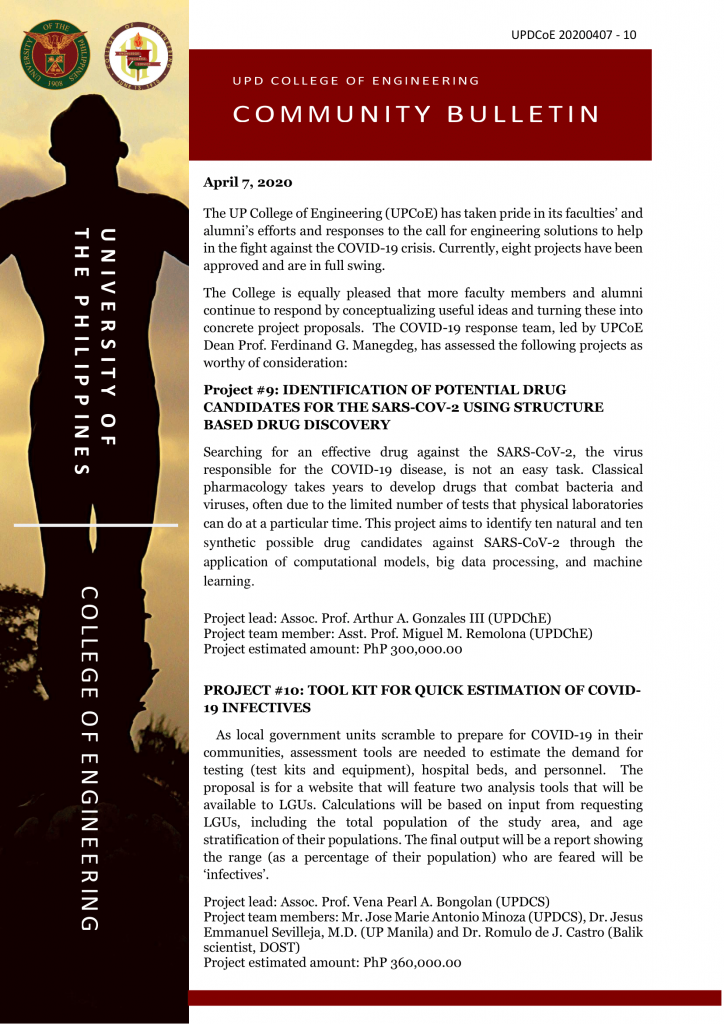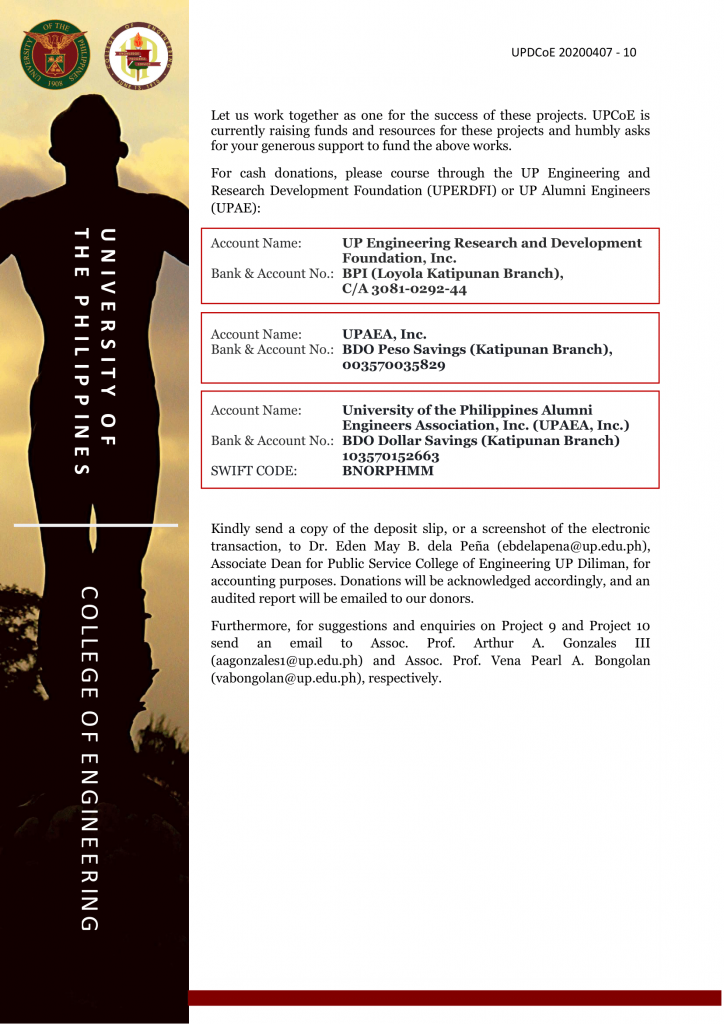 The UP College of Engineering (UPCoE) has taken pride in its faculties' and alumni's efforts and responses to the call for engineering solutions to help in the fight against the COVID-19 crisis. Currently, eight projects have been approved and are in full swing.
The College is equally pleased that more faculty members and alumni continue to respond by conceptualizing useful ideas and turning these into concrete project proposals. The COVID-19 response team, led by UPCoE Dean Prof. Ferdinand G. Manegdeg, has assessed the following projects as worthy of consideration:
Project #9: IDENTIFICATION OF POTENTIAL DRUG CANDIDATES FOR THE SARS-COV-2 USING STRUCTURE BASED DRUG DISCOVERY
Searching for an effective drug against the SARS-CoV-2, the virus responsible for the COVID-19 disease, is not an easy task. Classical pharmacology takes years to develop drugs that combat bacteria and viruses, often due to the limited number of tests that physical laboratories can do at a particular time. This project aims to identify ten natural and ten synthetic possible drug candidates against SARS-CoV-2 through the application of computational models, big data processing, and machine learning.
Project lead: Assoc. Prof. Arthur A. Gonzales III (UPDChE)
Project team member: Asst. Prof. Miguel M. Remolona (UPDChE)
Project estimated amount: PhP 300,000.00
PROJECT #10: TOOL KIT FOR QUICK ESTIMATION OF COVID-19 INFECTIVES
As local government units scramble to prepare for Covid-19 in their communities, assessment tools are needed to estimate demand for testing (test kits and equipment), hospital beds, and personnel. The proposal is for a website which will feature two analysis tools that will be available to LGUs. Calculations will be based on input from requesting LGUs, including total population of the study area, and age stratification of their populations. The final output will be a report showing the range (as percentage of their population) who are feared will be 'infectives'.
Project lead: Assoc. Prof. Vena Pearl A. Bongolan (UPDCS)
Project team members: Mr. Jose Marie Antonio Minoza (UPDCS), Dr. Jesus Emmanuel Sevilleja, M.D. (UP Manila) and Dr. Romulo de J. Castro (Balik scientist, DOST)
Project estimated amount: PhP 360,000.00
Let us work together as one for the success of these projects. UPCoE is currently raising funds and resources for these projects and humbly asks for your generous support to fund the above works.
For cash donations, please course through the UP Engineering and Research Development Foundation (UPERDFI) or UP Alumni Engineers (UPAE):
Account Name: UP Engineering Research and Development Foundation, Inc.
Bank & Account No.:BPI (Loyola Katipunan Branch),
C/A 3081-0292-44
Account Name: UPAEA, Inc.
Bank & Account No.: BDO Peso Savings (Katipunan Branch),
003570035829
Account Name: University of the Philippines Alumni Engineers Association, Inc. (UPAEA, Inc.)
Bank & Account No.: BDO Dollar Savings (Katipunan Branch)
103570152663
SWIFT CODE: BNORPHMM
Kindly send a copy of the deposit slip, or a screenshot of the electronic transaction, to Dr. Eden May B. dela Peña (ebdelapena@up.edu.ph), Associate Dean for Public Service College of Engineering UP Diliman, for accounting purposes. Donations will be acknowledged accordingly, and an audited report will be emailed to our donors.
Furthermore, for suggestions and enquiries on Project 9 and Project 10 send an email to Assoc. Prof. Arthur A. Gonzales III (aagonzales1@up.edu.ph) and Assoc. Prof. Vena Pearl A. Bongolan (vabongolan@up.edu.ph), respectively.
UPDCoE 20200407 -10