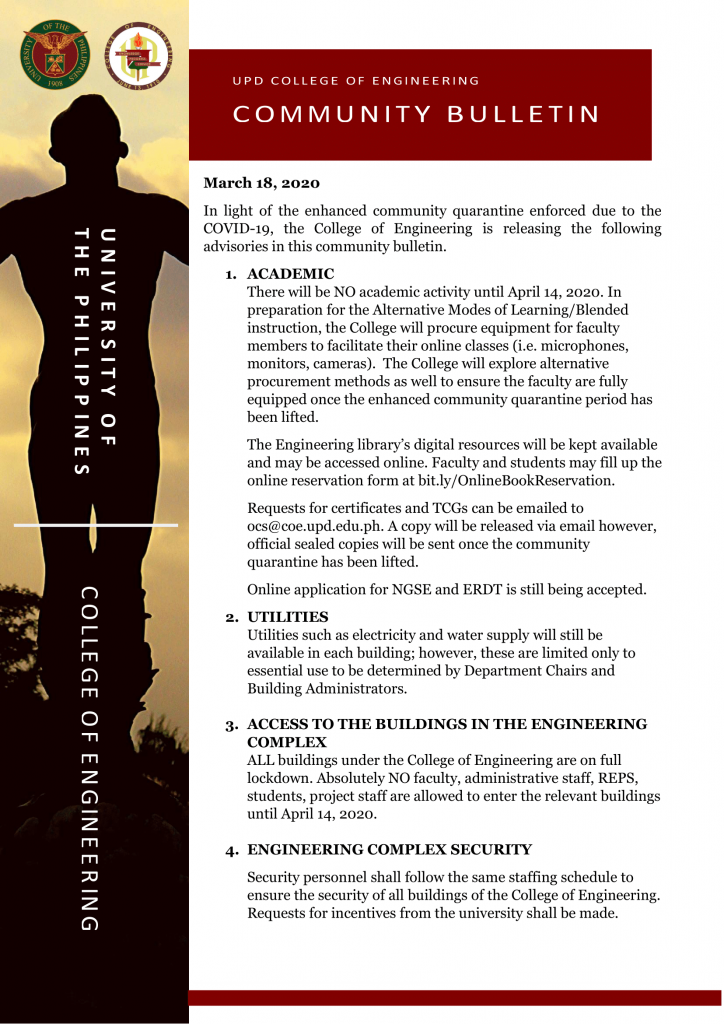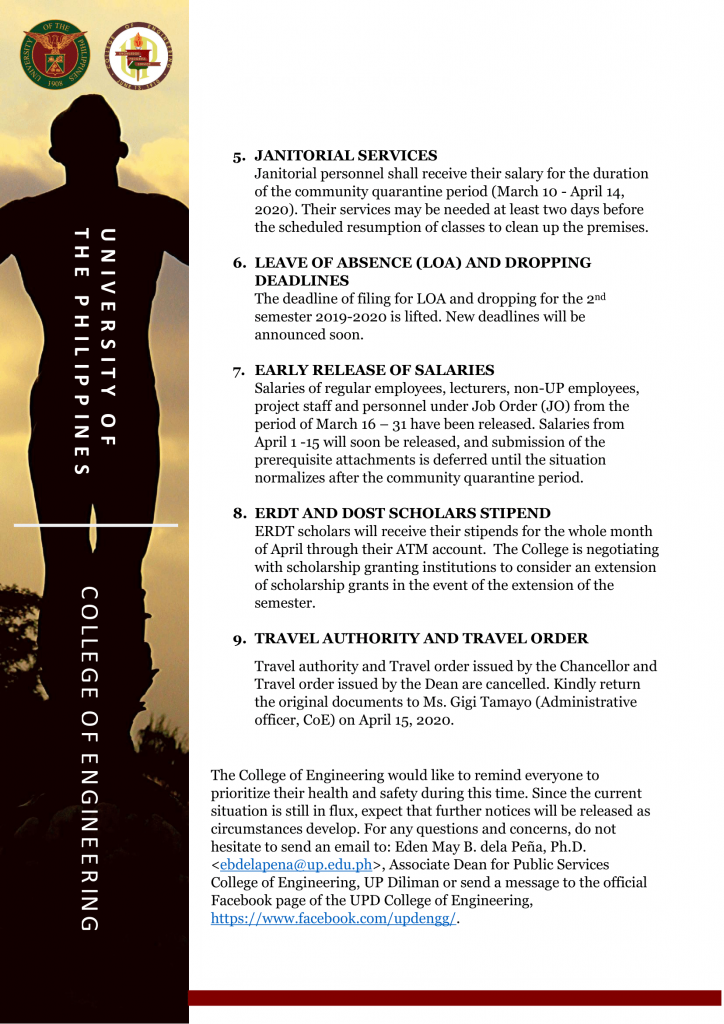 March 18, 2020
In light of the enhanced community quarantine enforced due to the COVID-19, the College of Engineering is releasing the following advisories in this community bulletin.
1. ACADEMIC
There will be NO academic activity until April 14, 2020. In preparation for the Alternative Modes of Learning/Blended instruction, the College will procure equipment for faculty members to facilitate their online classes (i.e. microphones, monitors, cameras). The College will explore alternative procurement methods as well to ensure the faculty are fully equipped once the enhanced community quarantine period has been lifted.
The Engineering library's digital resources will be kept available and may be accessed online. Faculty and students may fill up the online reservation form at bit.ly/OnlineBookReservation.
Requests for certificates and TCGs can be emailed to ocs@coe.upd.edu.ph. A copy will be released via email however, official sealed copies will be sent once the community quarantine has been lifted.
Online application for NGSE and ERDT is still being accepted.
2. UTILITIES
Utilities such as electricity and water supply will still be available in each building; however, these are limited only to essential use to be determined by Department Chairs and Building Administrators.
3. ACCESS TO THE BUILDINGS IN THE ENGINEERING COMPLEX
ALL buildings under the College of Engineering are on full lockdown. Absolutely NO faculty, administrative staff, REPS, students, project staff are allowed to enter the relevant buildings until April 14, 2020.
4. ENGINEERING COMPLEX SECURITY
Security personnel shall follow the same staffing schedule to ensure the security of all buildings of the College of Engineering. Requests for incentives from the university shall be made.
5. JANITORIAL SERVICES
Janitorial personnel shall receive their salary for the duration of the community quarantine period (March 10 – April 14, 2020). Their services may be needed at least two days before the scheduled resumption of classes to clean up the premises.
6. LEAVE OF ABSENCE (LOA) AND DROPPING DEADLINES
The deadline of filing for LOA and dropping for the 2nd semester 2019-2020 is lifted. New deadlines will be announced soon.
7. EARLY RELEASE OF SALARIES
Salaries of regular employees, lecturers, non-UP employees, project staff and personnel under Job Order (JO) from the period of March 16 – 31 have been released. Salaries from April 1 -15 will soon be released, and submission of the prerequisite attachments is deferred until the situation normalizes after the community quarantine period.
8. ERDT AND DOST SCHOLARS STIPEND
ERDT scholars will receive their stipends for the whole month of April through their ATM account. The College is negotiating with scholarship-granting institutions to consider an extension of scholarship grants in the event of the extension of the semester.
9. TRAVEL AUTHORITY AND TRAVEL ORDER
Travel authority and Travel order issued by the Chancellor and Travel order issued by the Dean are canceled. Kindly return the original documents to Ms. Gigi Tamayo (Administrative officer, CoE) on April 15, 2020.
The College of Engineering would like to remind everyone to prioritize their health and safety during this time. Since the current situation is still in flux, expect that further notices will be released as circumstances develop. For any questions and concerns, do not hesitate to send an email to: Eden May B. dela Peña, Ph.D. <ebdelapena@up.edu.ph>, Associate Dean for Public Services College of Engineering, UP Diliman or send a message to the official Facebook page of the UPD College of Engineering, https://www.facebook.com/updengg/.